All
ten
missions are ready on 02.07.2019:
01. Breakthrough, 30.03.1944, 10:30 ("Panther" ausf.A)
02. Outcome, 02.04.1944, 15:30 ("Panther" ausf.A)
03. Assistance, 04.04.1944, 17:15 ("Panther" ausf.A)
04. Advance, 05.07.1944, 19:45 ("Panther" ausf.A)
05. Escorting, 07.08.1943, 3:30 ("Panther" ausf.A)
06. Intention, 08.08.1944, 19:30 ("Panther" ausf.A)
07. Ambush, 27th July 1944, 15:30 ("Panther" ausf.A)
08. Avalanche, 7th July 1943, 11:30 ("Panther" ausf. D)
09. Trouble walking, 18.08.1944, ("Panther" ausf.A)
10. Cologne Panther, 06.03.1945, ("Panther" ausf.A)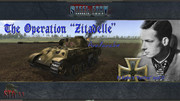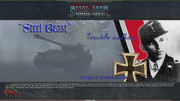 We could make a campaign for the Panther  A & D about the heavy fighting in the Mius river area in August 1943.
Good source for quotes:
http://www.oocities.cc/desertfox1891/pzpanther/pzpanther-inaction.html
"Our platoon moved through a pine forest. The vibrations of the heavy tanks resulted in a steady 'rain' of pine needles. After a short time, the first tank broke down, and other followed. We examined the incident. The pineneedles had fallen into the air inlets and blocked it. The respective engines had stopped almost immediately. As a stop-gap solution we welded a perforated bucket over the rear air inlet".
Gefreiter Werner Kriegel, Pz.Abt. 51
History note:
In early March 1944, the 5 SS Wiking was sent to assist in the defence of Kovel, which was under threat from a strong advancing Soviet 1st Belorussian Front.
Major General Herbert Gille was given command of the rear services units defending Kowel. He led his men towards the town and began setting up a defensive perimeter, which was soon encircled by the Red Army.
The 2nd Battalion, SS Panzer Regiment 5 Wiking, equipped with newly arrived Panther ausf. A tanks arrived at the front from Germany and began to form a relief unit. The unit was under the command of Obersturmfuhrer Karl Nicolussi Leck, commander of the 8th Company, 2nd Battalion, SS Panzer Regiment 5 Wiking. Nicolussi Leck immediately launched an attack. Soon after beginning the attack, he received a radio message from the besieged commander to halt his attack and withdraw. Leck ordered his radio operator to ignore the call, and continue with the attack. Risking court-martial, Nicolussi-Leck proceeded to fight his way though the Red Army encirclement. His Panther tank was the first vehicle to break the encirclement, for his actions he was awarded the Knight's Cross of the Iron Cross.
Throughout March and into April 1944, Wiking Division, 131 Infantry Division, 4 Pz. Division and 5 Pz. Division, fought to break the encirclement of the "Kowel pocket" and finally succeeded on 6th Apr.

BRIEFING(spoiler):


Initial situation:
The spearhead of the German Kampfgruppe under command of SS-Gruppenfuhrer Gille was cut off by the enemy from our main forces and now it is in Kowel in encirclement. They badly need a fire support with our tanks to keep on the defencive position. There is a strongpoint hold on with a group of Hauptmann Strecker. The goal of the mission is a striking through the Soviet forces in Kowel town and halting them while a counteroffensive could be launched.

Combat order:
There are two tank groups of the 5th SS Panzer Regiment, which take part in action:
1. Advanced squad under command SS-Oberscharfuhrer Faas, which consist of four Panthers with a desant (ride infantry).
2. Lead squad under command SS-Obersturmfuhrer Karl Nicolussi-Leck, which consist of four Panthers with a desant.
The task is capturing a railroad station Czerkasy, then move to the Strecker's strongpoint to help our encircled forces to repel the enemy attack.
It is 9:30 AM on 28 March. SS-Obersturmfuhrer Karl Nicolussi-Leck faced his regimental commander. "Hannes" Muhlenkamp, as he was known to his regiment, began to speak:
"Nico, you will move off at 3:00 PM and advance with your entire company to Tupaly. There you will be subordinated to the 131st Infantry Division. How many battleworthy tanks do you have?"
"Exactly 7 Panthers, Obersturmbannfuhrer. As well there are the recovery tanks and ten Mulis (armored tracked vehicles)".
"Outstanding," replied Muhlenkamp sarcastically. "The 434th Grenadier Regiment will provide volunteer assault teams who will ride with you on the tanks. I myself will drive ahead to Tupaly with Standartenfiihrer Richter at 1:00 PM and scout the terrain. Dismissed".

Your Task:
You are SS-Obersturmfuhrer Karl Nicolussi-Leck. There are three tanks Pz.V "Panther" ausf. A and desant (18 infantrymen mounted on the tanks) under your command.
You have to:
1. Together with Faas squad attack and capture the railroad station Czerkasy.
2. Move to the Strecker's strongpoint.
3. Repel the enemy tank attack.

Callsigns:
Your group is WOLF
Faas group is MOULTIER

Reconnaissance:
According to the recce report there is a presence of four Soviet rifle divisions. The enemy has many AT guns, MG nests, trenches with infantry and tanks T-34. Almost all area is covered with a swamp.

Artillery Support: No

Air Support: No

The commander of the 5th SS Panzer Division "Wiking" Obersturmbannfuhrer Johannes-Rudolf Muhlenkamp.

At this moment eight missions are available.
Download
.
There are three videos made by Geoweb35.
video:




Panther' cockpit made by Captain Reyes