The new mission N9 is almost ready!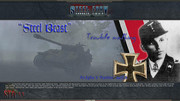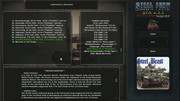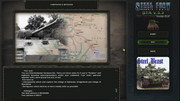 There are two draft names:
1. Trouble walking (preferable)
2. Implacability
I'm still hesitating which is better. There will be presented Panther A with a new/old camo - red, coz current Panther's 3D model was heavily re-designed and old "red-spots" camo was not fit on anymore. Action had place on 10th August 1944 near Warsaw, Poland, commander is Oberfeldwebel Hermann Bix.  Mission will start under the heavy rain then the weather will become clear. User has 3xPanthers with desant 18x soldiers under his control. The main group consist of the 4xPanthers with desant 24x.
The tasks are:
1. capture the village of Rybienko
2. cross the bridge and seize the bridgehead
3. capture the village of Wyschkow
During the movement user's group will bump into the Soviet tank T-34/85 counter-attack! The final third task is easy, coz the village is not covered well with AT guns, but still need attention.
The main feature of the mission is that user will meet the trophy Panther from the Soviet side!
Last edited by lockie on Mon Dec 03, 2018 2:58 pm; edited 2 times in total